Worship
Sunday Service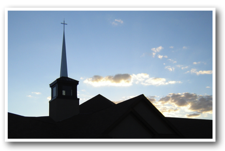 -
9:00am
Education Hour
- 10:15am
Directions

YouTube Streaming Channel - Divine Services
Readings for:
October 24, 2021

21st Sunday after Trinity
First Reading

Genesis 1:1-2:3
Second Reading
Ephesians 6:10-17
Gospel Reading
John 4:46-54
Liturgical Color
Green
Lectionary Summaries
lutherancalendar.org
Rev Vance and Linda Becker - Serving the Lord in Kenya
Stewardship
Genesis 1:1 – "In the beginning, God created the heavens and the earth." Many studies report that atheism is on the rise in our culture. The appeal of atheism is in the denial of a Creator. If the world just happens to exist – and if we are just accidents that arose out of a long process of random, directionless evolution – then we get to make our own rules, and nobody has any right to tell us otherwise. Since there is indeed a Creator, though, then obviously He knows best, and we try our best to follow His commands. Christians know this Creator very well, and we have seen not only His power and commands but also His grace and mercy in His Son, our Lord Jesus Christ.
Life Message
"Society should address every act of injustice and partiality based on ethnicity, and not allow politicians to use envy or 'race' for election ploys. 'Wisdom from above' is needed, says James, lest there be 'wars among you.' Resist the calls to revolution and repair to the One who is able to bring all men together, at the Cross." James M. Kushiner, The Fellowship of St. James - A Life Quote from Lutherans For Life
www.lutheransforlife.org
What About Life
Lutheran Resources
What About Marriage