Worship
Sunday Service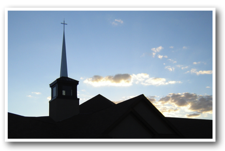 9:00am
Education Hour
10:15am
Directions
Readings for:
August 4, 2019

8th Sunday after Pentecost
First Reading

Ecclesiastes 1:2
12-14
Second Reading
Colossians 3:1-11
Gospel Reading
Luke 12:13-21
Liturgical Color
Green
Lectionary Summaries
lutherancalendar.org
Stewardship
Luke 12:15 – "And he said to them, 'Take care, and be on your guard against all covetousness, for one's life does not consist in the abundance of his possessions.' " Coveting is the opposite of being content with what God has given us. And the cure for coveting is twofold – thankfulness to God and generosity toward God's purposes. So be on guard against all covetousness. Acknowledge that your Father has given you all you need, and therefore be free and confident in directing the mammon of this world toward godly purposes.
Life Message
"[L]et us consider how we can encourage one another, how we can help one another in these times in which we are overcome, how we can spur one another on to love and to good works, how we can gather together, not neglecting one another in meeting together but instead gathering in the presence of God, encouraging one another as we wait for that Day to finally appear." Rev. Dr. Tony Cook, Lutheran Hour Ministries A Life Quote from Lutherans For Life
www.lutheransforlife.org
What About Life
Lutheran Resources
What About Marriage