Worship
Sunday Service
9:00am
Education Hour
10:15am
Directions
---
News

Lutheran Resources
What About Marriage
What About Life

---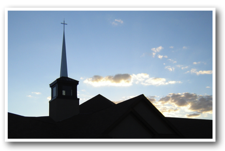 Readings for:

November 23, 2014
24th Sunday after Pentecost

First Reading

Ezekiel 34:11-16
20-24
Second Reading
1 Corinthians 15:20-28
Gospel

Matthew 25:31-46
Liturgical Color
Green

Lectionary Summaries
Stewardship
Matthew 25:44 "Then they also will answer, saying, 'Lord, when did we see you hungry or thirsty or a stranger or naked or sick or in prison, and did not minister to you?'" With this parable Jesus once again emphasizes that our good works come from who we are, not the other way around. Sheep do sheep works, and goats do goat works. So first things first: if we want to live more faithfully, let us come to Jesus, receive His gifts, and ask him to increase our faith!
Life Message
These blessings have not descended upon us in restricted measure, but overflow and abound. They are the blessings and bounty of God … In accordance with the wise custom of the civil magistrate since the first settlements in this land and with the rule established from the foundation of this Government … do appoint … a day of National Thanksgiving and Prayer, enjoining the people upon that day to meet in their churches for the praise of Almighty God and to return heartfelt thanks to Him for all His goodness and loving kindness." President William Howard Taft, November 5, 1910 – A "Life Quote" from Lutherans For Life –
www.lutheransforlife.org
Sunday School
November 23, 2014: Jabob and Esau
---