Worship
Sunday Service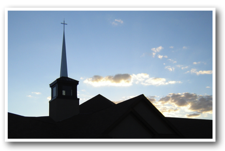 9:00am
Education Hour
10:15am
Directions
Readings for:
June 16, 2019

Trinity Sunday
First Reading

Proverbs 8:1-4
Second Reading
Acts 2:14a
22-36
Gospel Reading
John 8:48-59
Liturgical Color
White
Lectionary Summaries
lutherancalendar.org
Stewardship
From the Service of the Sacrament: "Holy, holy, holy Lord, God of Sabaoth adored." Three times the angels cry out: "Holy, Holy, Holy!" which is an indication of the threeness in one God – Father, Son, and Holy Spirit. This is the Name in which we are baptized. We have been made a part of God's family. And so we are called to live lives that are in harmony with our new family. We are to be godly and to live in God's image. As God is loving, kind, and generous – so are we called to be.
Life Message
"The good things that fathers do for their children and give to their children are blessings from God, for fathers and mothers are God's representatives to their children. As disciplinarians, they are representatives of His holiness. As providers, they are representatives of His goodness and generosity. As teachers of the Gospel, they are representatives of His grace. And as representatives not only do they act toward their children on God's behalf, they also demonstrate to them who their God is and what He is like, for it is His blessings that they bring to their children." From the "Lutheran Spokesman" - A Life Quote from Lutherans For Life
www.lutheransforlife.org
What About Life
Lutheran Resources
What About Marriage