Worship
Sunday Service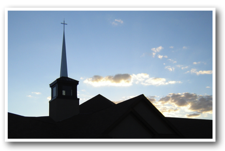 9:00am
Education Hour
10:15am
Directions
Readings for:
October 20, 2019

19th Sunday after Pentecost
First Reading

Genesis 32:22-30
Second Reading
2 Timothy 3:14-4:5
Gospel Reading
Luke 18:1-8
Liturgical Color
Green
Lectionary Summaries
lutherancalendar.org
Rev Vance and Linda Becker - Serving the Lord in Kenya
Stewardship
Genesis 32:26b – "But Jacob said, 'I will not let you go unless you bless me.' " The great Lutheran musician J.S. Bach composed a beautiful motet using this verse. It is the cry of true faith, much the same as Peter's words, "Lord to whom shall we go? You have the words of eternal life." True faith clings to the Lord no matter the struggle, no matter the "hard sayings" that the Lord speaks. True faith knows that God means to bless us always.
Life Message
"No matter how hopeless and weak you think you are, you've been provided with all the grace you need to make it to the end. Future grace always carries with it the promise of present grace. God will provide everything you need until you see Him face to face (2 Peter 1:3)." Paul David Tripp, pastor, author and conference speaker. - A Life Quote from Lutherans For Life
www.lutheransforlife.org
What About Life
Lutheran Resources
What About Marriage