Worship
Sunday Service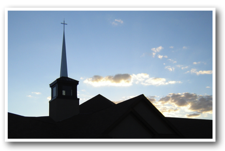 9:00am
Education Hour
10:15am
Directions

YouTube Streaming Channel - Divine Services

Coronavirus resources
Readings for:
May 9, 2021

Sixth Sunday of Easter
First Reading

Numbers 21:4-9
Second Reading
James 1:22-27
Gospel Reading
John 16:23-30
Liturgical Color
White
Lectionary Summaries
lutherancalendar.org
Rev Vance and Linda Becker - Serving the Lord in Kenya
Stewardship
1 Timothy 2:5-6 – "For there is one God, and there is one mediator between God and men, the man Christ Jesus, who gave himself as a ransom for all." To be ransomed is to be bought back, to be purchased. We belong to God, fair and square. This is not only because He created us, but this is doubly so in that we are ransomed. We belong to God. That's the beginning of thankfulness and generosity.
Life Message
"Little though you can see it now, God intends to do wonderful things with you. If He is taking it slowly, that's no surprise; He did it the first time, too. Nothing the devil can do will stop the Lord from finishing His work in you. After all, He has already laid down His life to make you His own." Dr. Kari Vo, Lutheran Hour Ministries - A Life Quote from Lutherans For Life
www.lutheransforlife.org
What About Life
Lutheran Resources
What About Marriage