Worship
Sunday Service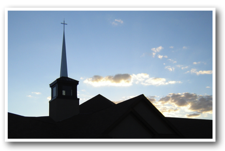 9:00am
Education Hour
10:15am
Directions

Streaming Service - September 27th






A Message from LCMS President Harrison Amid the Coronavirus Pandemic
More resources
Readings for:
October 18, 2020

20th Sunday of Pentecost
First Reading

Isaiah 45:1-7
Second Reading
1 Thessalonians 1:1-10
Gospel Reading
Matthew 22:15-22
Liturgical Color
Green
Lectionary Summaries
lutherancalendar.org
Rev Vance and Linda Becker - Serving the Lord in Kenya
Stewardship
Matt. 22:21 – "… Then he said to them, 'Therefore render to Caesar the things that are Caesar's, and to God the things that are God's.' " So what is Jesus saying? Doesn't everything belong to God? Yes, and God has a place for everything. Some of what He gives us goes to Caesar. Some must come back to the work of His Church. And some goes to support the families He has given us. All belongs to God, and He has work for us to do with what He has given us in the home, in the Church, and in society.
Life Message
"The Church has confessed from the beginning that each life is created by God, that human life is the supreme gift of the Creator. Human life is not given unconditionally but is given under the condition that we will be responsible for preserving it. The testimony that God respects life above all else is contained in the words of the Gospel: 'For God so loved the world, that he gave his only begotten Son, that whosoever believeth in him should not perish, but have everlasting life' (John 3:16)." Abbot Tryphon, Vashon Island, Washington Tawnia Hoehne, Frazee, Minnesota - A Life Quote from Lutherans For Life
www.lutheransforlife.org
What About Life
Lutheran Resources
What About Marriage