Worship
Sunday Service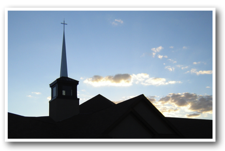 9:00am
Education Hour
10:15am
Directions
Readings for:
December 1, 2019

First Sunday in Advent
First Reading

Isaiah 2:1-5
Second Reading
Romans 13:
11-14
Gospel Reading
Matthew 21:1-11
Liturgical Color
Blue
Advent / Christmas Services
Lectionary Summaries
lutherancalendar.org
Rev Vance and Linda Becker - Serving the Lord in Kenya
Stewardship
Matt. 21:3 – "If anyone says anything to you, you shall say, 'The Lord needs them,' and he will send them at once." Just a colt and her foal. How significant could they be? Could they really be used by the Lord for some great, heavenly purpose? This is one facet of stewardship we often forget: it is a blessing to us to be of service in the Lord's kingdom. What honor the Lord bestows upon us by using our gifts for His goals.
Life Message
"Here is why Christmas matters … '[H]e too shared in their humanity so that by his death he might destroy him who holds the power of death …' (Hebrews 2:14a). Imagine that. He needed a human body so it could be nailed to a cross. He needed human blood so it could be poured out as a sin offering for the world. For you. And it all started in Bethlehem. What can you say to that but 'glory to God in the highest!'" Pastor Mark Jeske, Time of Grace - A Life Quote from Lutherans For Life
www.lutheransforlife.org
What About Life
Lutheran Resources
What About Marriage