Worship
Sunday Service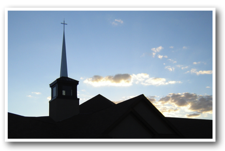 9:00am
Education Hour
10:15am
Directions
Readings for:
May 27, 2018

Trinity Sunday
First Reading

Isaiah 6:1-8
Second Reading
Acts 2:14a
Gospel Reading
John 3:1-17
Liturgical Color
White
Lectionary Summaries
lutherancalendar.org
Stewardship
John 3:6 – "That which is born of the flesh is flesh, and that which is born of the Spirit is spirit." In Holy Baptism we receive a new birth: spirit from Spirit. With that rebirth we receive new desires, new lives, new purposes. To the (fleshly) world, Christian generosity makes no sense: the total minus a percentage is less than the original total. But Spirit-reborn Christians know that God's math works differently (as we might expect from the Trinity!): a blessing received from God becomes more of a blessing when it is used in generosity to bless others.
Life Message
"Would you be willing to take a little bit of time on Memorial Day to do two things? One is to thank God for the successful outcomes of the sacrifices that these graves represent. Our country is a free and blessed place, and our freedom was bought at a terrible price. Second, will you rededicate yourself to sharing the good news of Jesus so that as many people as possible will be rejoicing on resurrection day? As you think about cemeteries, realize that God has the last word: 'Multitudes who sleep in the dust of the earth will awake: some to everlasting life, others to shame and everlasting contempt' (Daniel 12:2 NIV). All Christian warriors will awake soon to new life." Pastor Mark Jeske, Time of Grace – - A Life Quote from Lutherans For Life
www.lutheransforlife.org
What About Life
Lutheran Resources
What About Marriage