Worship
Sunday Service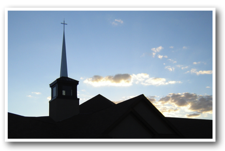 9:00am
Education Hour
10:15am
Directions
Readings for:
October 7, 2018

20th Sunday After Pentecost
First Reading

Genesis 2:18-25
Second Reading
Hebrews 2:1-13
Gospel Reading
Mark 10:2-16
Liturgical Color
Green
Lectionary Summaries
lutherancalendar.org
Stewardship
Mark 10:6 – "But from the beginning of creation …" In recent years, our country, along with most all the (formerly) Christian nations of Europe, has lost its way when it comes to marriage. We have ignored the fact that it is God who created us. We always go off the tracks when we forget that He made us and that everything good in this world comes from His hand. In big things and in small things, in the life of a nation or the life of an individual, things go dreadfully wrong when we ignore the Creator's instructions for life.
Life Message
"It is our faith that compels us to venerate life from its moment of conception. It is by faith that we treat life not as an entitlement or possession but as a steward for the Creator who gives life. Only by faith do we accept that life at its earliest possible moment has culpability for sin before the Divine Judge and benefits from the sacrifice of our Savior." Rev. Robert Fleischmann, national director of Christian Life Resources – - A Life Quote from Lutherans For Life
www.lutheransforlife.org
What About Life
Lutheran Resources
What About Marriage