Worship
Sunday Service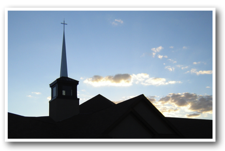 9:00am
Education Hour
10:15am
Directions
Readings for:
February 16, 2020

Sixth Sunday after The Epiphany
First Reading

Deuteronomy 30:15-20
Second Reading
1 Corinthians 3:1-9
Gospel Reading
Matthew 5:21-37
Liturgical Color
Green
Lectionary Summaries
lutherancalendar.org
Rev Vance and Linda Becker - Serving the Lord in Kenya
Stewardship
1 Cor. 3:7 – "So neither he who plants nor he who waters is anything, but only God who gives the growth." Isn't that the truth! It's not just true about preachers like Paul; it's true about all of us in the Christian life. God can do such wonderful things with our feeble efforts. This is so very true of our gifts to the Lord's work in the church. From His generous giving to us, we learn to give generously. Then the Lord blesses this response to His grace in turn, and He uses our very giving to continue to bless us in the church where we hear of His gracious generosity to us. The cycle repeats, and the Lord gives growth!
Life Message
"The key to a Christian family living out His love—the mutual love we can only know because God first loved us—is Jesus. In the Christian household where friends, extended family members, and neighbors come together, we love one another and forgive one another. We do this because God loves and forgives us through the life, death, and resurrection of His beloved Son Jesus." Ron Schlegel, The Lutheran Laymen - A Life Quote from Lutherans For Life
www.lutheransforlife.org
What About Life
Lutheran Resources
What About Marriage