Worship
Sunday Service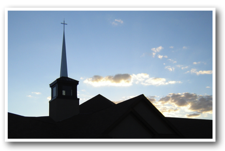 9:00am
Education Hour
10:15am
Directions
Readings for:
January 19, 2020

Second Sunday after The Epiphany
First Reading

Isaiah 49:1-7
Second Reading
1 Corinthians 1:1-9
Gospel Reading
John 1:29-42a
Liturgical Color
Green
Lectionary Summaries
lutherancalendar.org
Rev Vance and Linda Becker - Serving the Lord in Kenya
Stewardship
John 1:29 – "The next day he saw Jesus coming toward him, and said, 'Behold, the Lamb of God, who takes away the sin of the world!' " The Israelites of old offered a lamb to God at Passover so that death might pass over them and do no harm. Over those long centuries of sacrifice, did they understand that this was actually God's gift? Did they understand that God would be the true Giver of the true Lamb? Truly, we can never outgive God, for all that we have is His.
Life Message
"As the Church, we are created to stand against evil. We are created to speak truth ... and forgiveness. The truth is that abortion ends the life of a human being, and we should be unwavering in our opposition to it. But that is not the end of the story. We have been given the gift of Christ, and the power of Christ can wash our sins away." Rev. Troy Tysdal, Church of the Lutheran Brethren - A Life Quote from Lutherans For Life
www.lutheransforlife.org
What About Life
Lutheran Resources
What About Marriage