Worship
Sunday Service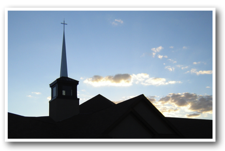 9:00am
Education Hour
10:15am
Directions

YouTube Streaming Channel - Divine Services

Coronavirus resources
Readings for:
April 25, 2021

Fourth Sunday of Easter
First Reading

Lamentations 3:22-33
Second Reading
1 John 3:1-3
Gospel Reading
John 16:16-22
Liturgical Color
White
Lectionary Summaries
lutherancalendar.org
Rev Vance and Linda Becker - Serving the Lord in Kenya
Stewardship
1 John 3:2 – "Beloved, we are God's children now, and what we will be has not yet appeared; but we know that when he appears we shall be like him, because we shall see him as he is." The essence of our sanctification is becoming like our Lord. As St. John notes, this will only be completed in the Resurrection. In the meantime, we strive toward that goal because we want to walk in the footsteps of our Lord. By His grace we share His destiny in eternal life, and therefore we desire to share His life of service now.
Life Message
"Death is the one thing no Christian has to do on his or her own. Jesus has already been through suffering and death before us. He knows the way through death and the way back to life, too. Our friends and family cannot go with us—but Jesus can. He will never let go of our hands. And He will bring us back to life with Him because He has promised, and He will never lie." Dr. Kari Vo, Lutheran Hour Ministries- A Life Quote from Lutherans For Life
www.lutheransforlife.org
What About Life
Lutheran Resources
What About Marriage