Worship
Sunday Service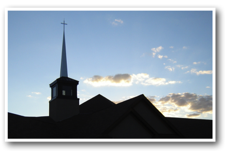 -
9:00am
Education Hour
- 10:15am
Directions

YouTube Streaming Channel - Divine Services
Readings for:
March 19, 2023
(Laetare)
Fourth Sunday in Lent
First Reading

Isaiah 49:8-13
Second Reading
Acts 2:41-47
Gospel Reading
John 6:1-15
Liturgical Color
Purple
Upcoming Events
Rev Vance and Linda Becker - Serving the Lord in Kenya
Stewardship
John 6:5 – "Jesus said to Philip, 'Where are we to buy bread, so that these people may eat?'" Of course Jesus knows the answer to that question — He knows how He means to care for His people. The Lord provided, and He still provides. This knowledge frees us for generosity without fear.
Life Message
"When we ignore the baby in the womb and focus instead on what is now being labeled as the rights of the mother and women's health care, we are turning our backs on God. Never has God authorized killing and called it a right. Never has God condoned promoting abortion and called it health care. His love for life is written throughout Scripture. What are we doing when we ignore His sacred Word?" Virginia Flo, Lutherans For Life - A Life Quote from Lutherans For Life
www.lutheransforlife.org
What About Life