Worship
Sunday Service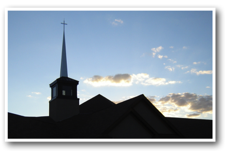 -
9:00am
Education Hour
- 10:15am
Directions

YouTube Streaming Channel - Divine Services
Readings for:
May 21, 2023

Seventh Sunday of Easter - Exaudi
First Reading

Ezekiel 36:22-28
Second Reading
1 Peter 4:7-11
Gospel Reading
John 15:26 - 16:4
Liturgical Color
White
Rev Vance and Linda Becker - Serving the Lord in Kenya
Stewardship
1 Peter 4:10 – "As each has received a gift, use it to serve one another, as good stewards of God's varied grace." God's grace is His undeserved mercy toward us. What do we have that is not a gift flowing from God's grace? He means for us to use all these gifts in service of our neighbor. The chief way we serve one another is by supporting the church's work: bringing more of God's grace to more of God's people. That's what it means to be a steward!
Life Message
"God has chosen each one of us from the beginning of creation. God has also chosen our body to be a temple. He gave us the beautiful gift of a body, and we are called to be stewards of that body, to take care of it and be aware of what we do with it. God also chooses each one of us to belong. We all have a spot and purpose in God's family—and not one of us is useless or random. God chose us with a purpose. Nothing He does is random." Kambria Steinhaus, Knights 4 Life - A Life Quote from Lutherans For Life
www.lutheransforlife.org
What About Life