Worship
Sunday Service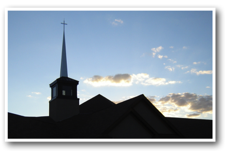 -
9:00am
Education Hour
- 10:15am
Directions

YouTube Streaming Channel - Divine Services
Readings for:
September 25, 2022

15th Sunday after Trinity
First Reading

1 Kings 17:8-16
Second Reading
Galatians 5:25-6:10
Gospel Reading
Matthew 6:24-34
Liturgical Color
Green
Upcoming Events
Rev Vance and Linda Becker - Serving the Lord in Kenya
Stewardship
Matthew 6:25a – "Therefore I say to you, do not worry about your life." God is in charge. God is our loving Father. Put those two statements together, and they spell the end of worry and anxiety. Yes, we will have crosses to bear. Yes, we will have difficulties. But, through it all, our loving heavenly Father is in charge, and He will carry us through. It is that simple faith, the faith of a child, that frees us from worry. And in the absence of worry, faith can step forward in bold action and into the kind of generosity that can only operate in an atmosphere of trust.
Life Message
"Every time we speak up for the sanctity of life, whether for the unborn, the disabled, the elderly, or the marginalized, we speak for hope. Every time we drop some coins or a check into a baby bottle, we stand for hope and healing and life. Every time we personally care for someone or hug someone or talk to someone who is in a crisis pregnancy or is disabled or is elderly or is marginalized, we show them Christ. We show them the common ground that transcends all our differences. We show them that all our lives matter because God made us. He chose each of us to be His child, and He will never leave us or forsake us. Let us never give up on baby bottle drives and hugs and smiles. The world needs us!" Barbara A. Geistfeld, D.V.M., Lutherans For Life regional director of Texas - A Life Quote from Lutherans For Life
www.lutheransforlife.org
What About Life